Last weekend we brought together most of the Gallic/ Keltic troops that we all have in 25mm. These amounted to approximately: 320 infantry, 70+ cavalry and 8 chariots.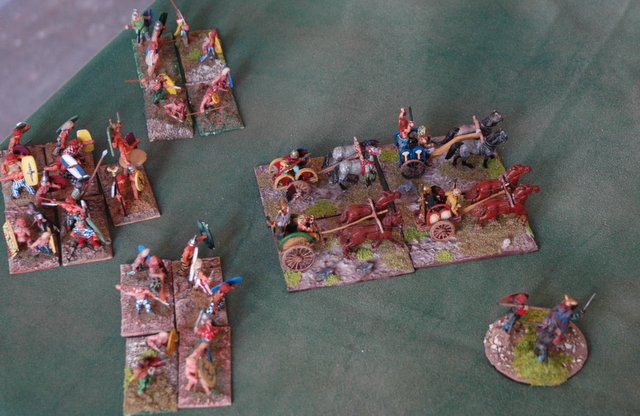 There was some initial fiddling about with an idea for a four way micro-campaign but we ultimately decided to do a straight forward tabletop encounter with the majority of the foot figures fighting in 2 loose alliances. Each player had 3 units of veteran warriors and 4 of normal tribal soldiers. Although this might sound like a predictable force In the Piquet Archon rules every unit has a randomly generated Basic Dice Value that their combat skills and Morale value are developed from.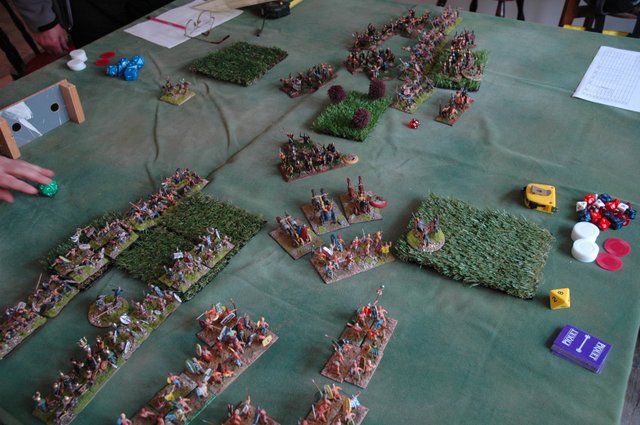 The result of this is that any unit can start the game with an average value, battle weary, enthusiastic or keen as mustard! The variation is on a simple bell curve with only the score of 1 to 4 and 17 to 20 on a twenty sided dice (D20) changing the BDV from an average D6. Pluses and minuses on this dice roll can be quite powerful, but it is a nice simple way to incorporate effects such as good, veteran troops being short of supplies or other reasons to be under-motivated.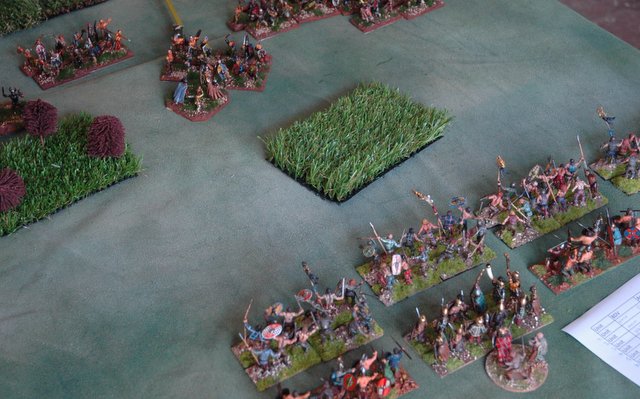 Once we had rolled for the BDV values Nick had the most gung-ho enthusiastic command any of us had ever seen, Jim and Adam had average troops and Les was lumbered with a sorry pack of battle weary skivers! Even though we all had identical troop rosters it meant that every one was different with it's own unique character. What strategy we adopted was only partly based on these differences. Adam attempted (with some success) to draw away a part of Nick's command so that Jim could crush the remainder. Despite Nick feeding his heroes into the fray piecemeal Jim's progress was positive but quite slow.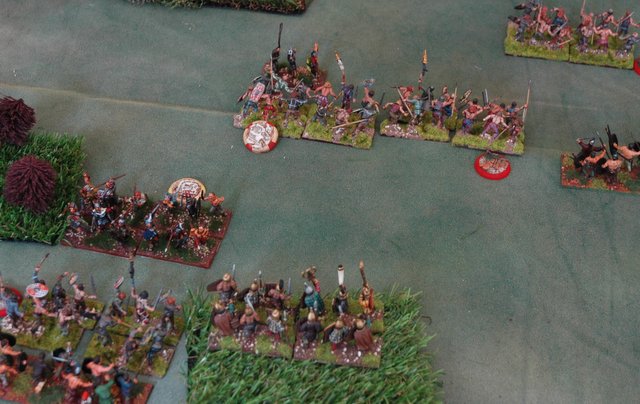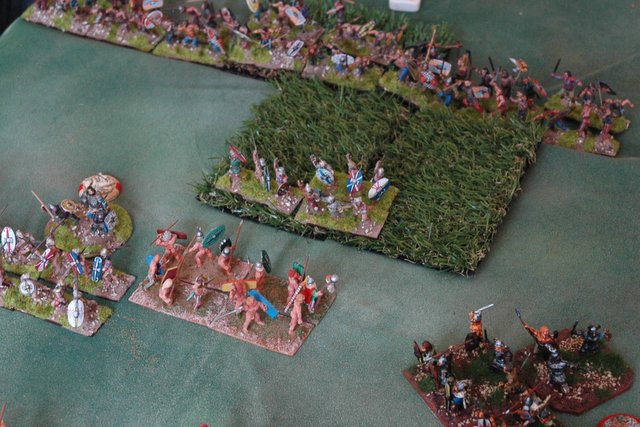 Last unit of naked Gaesati about to be engulfed...

On the other flank, Adam's gambit to draw the enemy his way reaped it's rewards as every unit of his Kelts managed to lose the close combats they got into. Soon there was nothing but fleeing remnants of this force but Jim had not made the most of his numerical advantage acheived through this sacrifice.So, a victory to Les and Nick and a nice occasion to see a lot of our various collections of Gauls/ Kelts on the table.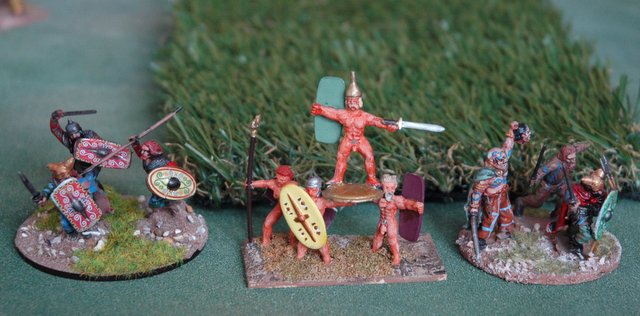 Three collections of Kelts saw action, including (L to R): Foundry, QT Miniatures and Warlord.